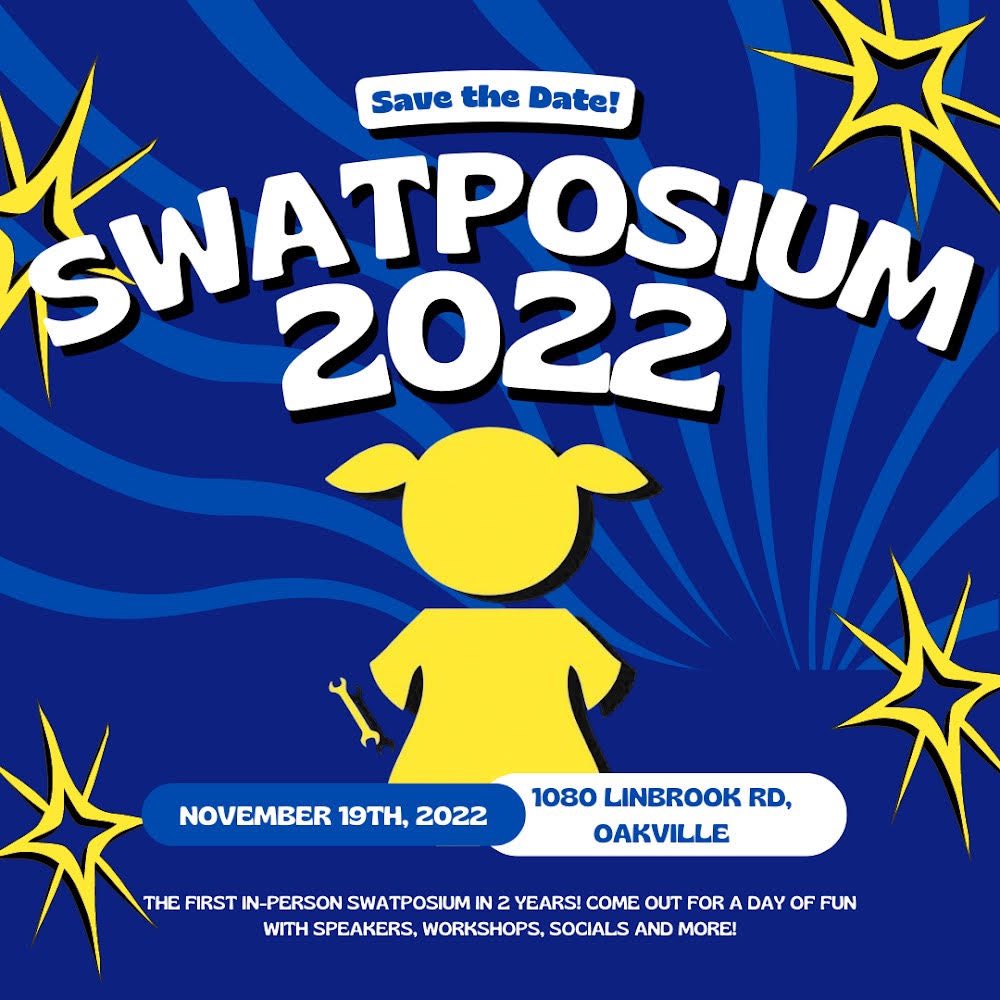 Team Number 
771
Team Name 
SWAT
About SWATposium
SWAT 771 is an FRC team based in Oakville, Ontario, that is proud to be the first all-girls FRC team in Canada. SWATposium is SWAT 771's annual robotics conference that is dedicated to bringing together the FIRST and STEM communities through the sharing of knowledge, expertise, and socialization. Each year, SWATposium strives to prepare rookie and veteran teams for the upcoming season and has been an integral way for different teams to get to know one another, and connect through a common passion. The day is organized into blocks of volunteer-led workshops, with a guest opening speaker in the morning, as well as lunch and social activity in between.
Running the first In-person SWATposium since the pandemic
This year, SWATposium was held on November 19, 2022. SWATposium 2022 was the first in-person SWATposium that SWAT has hosted after 2 years of adapting the event to a virtual platform due to the pandemic. Although the virtual platform provided flexibility and a greater geographical reach, the in-person connections made at this year's SWATposium were long-awaited, and greatly appreciated by all attendees. At first, it was daunting to have to organize an in-person event after two years of this event being virtual. However, everything ran very smoothly, and SWAT is incredibly proud of how this event turned out.
How is SWATposium organized?
SWATposium is a student-led initiative, and every year, members of SWAT 771 have the opportunity to apply for a leadership position in the planning and execution of this event. The appointed leader(s) are in charge of organizing every aspect of this event, from recruiting workshop presenters, reaching out to opening speakers, and leading attendees throughout the event itself. This year, the SWATposium leadership team included:
Sofia A. (SWATposium Lead)

Esma Y. (Logistics)

Samantha D. (Community Relations and Marketing)

Jenny L. (Sponsorship and Donations)
SWAT members without an assigned leadership position still have the opportunity to get involved in the planning and running of SWATposium. Each year, interested members join the SWATposium task force, and help with aspects such as set-up and clean-up, workshop monitoring, thanking presenters, and serving food.
SWATposium's Impact
SWATposium has been running annually since 2010, with SWATposium 2022 being the 12th annual event that SWAT has hosted. This year, SWATposium had over 50 attendees from various FRC teams, and 14 volunteer-led workshops from both SWAT members and other FRC teams. SWATposium has provided a fun, educational platform for Robotics teams across the world to share their knowledge with others in the community, and each year it has sparked connections between members of SWAT's community and beyond, whether these connections are made virtually or in-person.
The opening speaker this year was Florence Tan, an engineer who has been working with NASA for many years, leading the development and execution of numerous flight missions. She inspired all attendees by sharing her experience and challenges of being a woman and immigrant pursuing STEM, highlighting the importance of taking risks and never giving up. Aligning with the FIRST theme for this season, she also delved into details about the energy needed for these deep-space flight missions.
No matter the circumstances, SWATposium has continuously been both a fun and impactful event that many members of the FIRST community look forward to each year. SWAT strives to unite and impact its community and beyond through this event, and constantly seeks ways to improve future SWATposiums, ensuring the sustainability of this amazing event.