Among many outreach events that FIRST Team 1305 has hosted is their annual FIRST Gateway Conference, this year virtual for the second year in a row. This event has been going on since 2017 and is an opportunity for teams to learn about a wide range of topics in FIRST. The FIRST Gateway Conference is a way to bring together like-minded individuals who would like to learn about FIRST and STEM, making FIRST more accessible to all! This year's FIRST Gateway Conference was focused on both FTC and FRC topics. Once again, the homegrown northerner, Sydney Lamorea, was Emcee, and as always, made the day fun! Sydney also shared the role with Jr. Emcee, Michael, who entertained viewers with his Michael-styled jokes.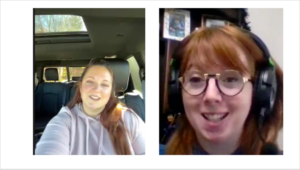 Having presentations such as the "Connecting With Campers" panel presented by a registered play therapist and FIRST alum, Lauren Isenegger, was very informative to teams for this current season and upcoming seasons as they progress to having STEM camps available online. Lauren helped teams understand how to make STEM more inclusive, especially for children with special needs, and most importantly, how to have fun together! So if you are thinking you would like to play with Lego for a future career, play therapy is the place to be!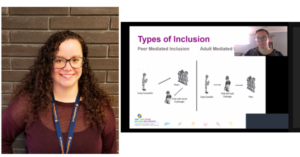 The Huntsville Hoyas, known for starting and mentoring four FRC teams in their small school board, Trillium Lakelands, presented the topic, "Starting and Sustaining FRC Teams". They offered a unique take on teams in more rural and Northern Ontario areas, with a focus on nurturing a culture of STEM in their community.
FRC Team 5672 alum, Aaryn Zoccoli, provided insights into the Indigenous experience with her presentation on her own family and life challenges, as well as her rewarding journey through FIRST. They in FIRST are very appreciative of Aaryn and 5672's sharing of knowledge with all of FIRST.

The conference planners, for the second year, included a speaker on Robots in Medicine. Thank you to FIRST mentor alum, Dr. Kay-Sea Taylor, now practicing in family medicine and assisting in surgery in Sault Ste. Marie. Clearly, she was very busy at the hospital and had to do the Q and A from her car in the parking lot. Thank you Dr. Taylor for putting that second M, for medicine, in STEMM and working on the front lines to keep us safe!
New this year was the "Making an Impact Through Social Media" presentation by FIRST Canada's Joanna Whitney, a communications specialist. She included tips on how to make your team's social media presence both impactful and appropriate. Be sure to watch Ms. Whitney's presentation at:
​​https://www.youtube.com/c/Team1305Org/videos
The "Submitted Awards" panel this year included Chairman's 2021 Ontario Remote winning team, 772 Sabre Bytes, Mr. Mark Breader, and Alum Ms. Jessica Kelso. The veteran Sabre Bytes are a role model team in FIRST and generous in sharing their expertise. Mr. Breadner shared with us how moved he was to be awarded the Woodie Flowers Award at World Championships. He reminded teams to recognize their hard-working mentors by nominating them for this award. Ms. Kelso, herself a Dean's List Finalist, talked about the Dean's List Award and was the moderator of the Submitted Awards segment. 
Also, this past conference included the "FTC Tips" panel presented by another amazing Northern Ontario team, 4069 Lo-Ellen Robotics! Mr. Dan Monti and team captain Tyler shared insider secrets to becoming a successful, role model FTC team. 
While having those awesome topics, they also have had in the past, FIRST-famous guest speakers such as Dave Ellis, Karthik Kanagasabapathy, Arti Javeri, and even FIRST Canada Youth Council Members speak at the conference! 
During breaks between panels, there were fun activities such as a scavenger hunt and Kahoot to have a chance to win some awesome FIRST swag. As per their tradition, 1305 closed off the conference with a wrap video to the tune of their FIRST song, "We Belong".
Being a veteran team and the longest sustained FRC team in Northern Ontario, it is impressive to see the responsibility that this team has taken on to support and bring together other teams in the North, and all of the FIRST community. 
1305 hopes to see you all at the 2022 FIRST Gateway Conference next fall!