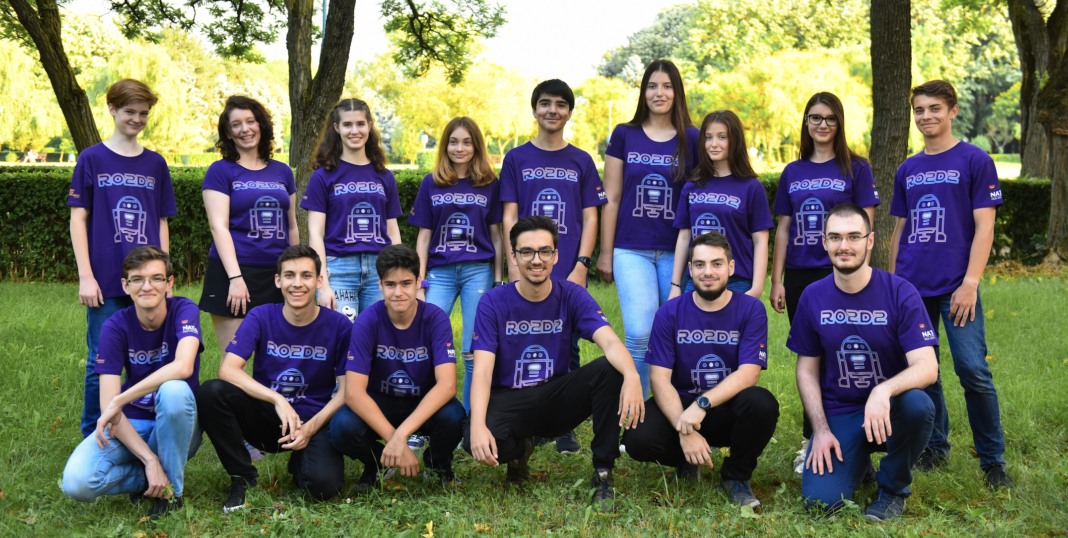 Can you tell us a little bit about your team's history?
 Our team's story begins before the summer of 2018, when a group of students with a passion for making things happen, officially became a FIRST Tech Challenge team, called Ro2D2. During our first season, we achieved remarkable results but a lack of funding was putting the success of our team at risk and we didn't have the materials we needed to build our robot so we decided to sponsor ourselves, scholarships that we received from our school for outstanding academic achievement. 
During the Rover Ruckus season, our team dominated the playing field at the qualifying tournament in Bucharest and came out as the Winning Alliance Captain and winner of the Inspire award. We also won the 3rd place Connect award and the 2nd place Design award at the National Championship, our robot was declared Project of the year in 2019 and we became well-known for the way in which we demonstrated and promoted FIRST values.
During the Skystone season, our team grew to include 15 members between the ages of 11 and 18 but, unfortunately, the season was cancelled because of the pandemic and we weren't able to participate in competitions. This season, we are focused on bringing together our unique backgrounds, experiences, interests and abilities to both adapt to and create change and we look forward to many more seasons in which we will continue to set and achieve goals and approach every experience as an opportunity to learn.
     What are some of the accomplishments or initiatives about which your team is most proud?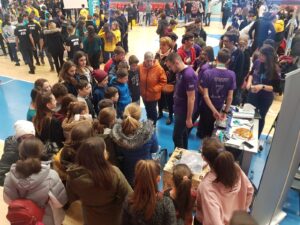 At the core of our work is the desire to inspire students by sharing expertise and providing tools for success so that they too can experience the many benefits of participation in robotics and learning STEM concepts and skills. From students as young as four years old to secondary school students, we have developed programs for youth of all ages, including robotics programs using LEGO BOOST, C++ programming courses, a program in which we built and launched water rockets! We have also explained FIRST programs, including the FIRST values of Coopertition and Gracious Professionalism, to high school students in an appealing way.
We have also worked with adults at local, national and international institutions and non-profit organizations and entrepreneurs to engage them in interesting activities and to demonstrate the importance of STEM education from an early age, with the goal of developing partnerships that will result in positive change in the community. We have organized over 200 events, projects and demonstrations in teaching institutions in Prahova county and in Romania but have also reached beyond our borders into France, Switzerland, Israel, Turkey, Brazil, Australia and the US by participating in international events that promote STEM education.
      What is the STEM HUB Journal and how can our readers access past issues?
The STEM HUB Journal is an online publication that features articles about STEM education, robotics, FIRST-related news and a platform on which people and teams can share their stories and adventures. The creation of this publication required us to work together and exposed us to a whole new world of proofreading, writing, editing and graphic design. Although the creation of a digital journal is not easy, it is a rewarding experience that has strengthened our team and helped us to understand the importance of teamwork. It also provides youth from across the globe with the opportunity to share life experiences and express opinions on different subjects that matter to them. It helps students to not only share their knowledge and improve their communities but also to learn about other cultures. Click HERE to read past issues of the STEM HUB Journal.
4.      How has your team been impacted by the pandemic and how have team members managed to stay connected with one another and with other teams from around the world?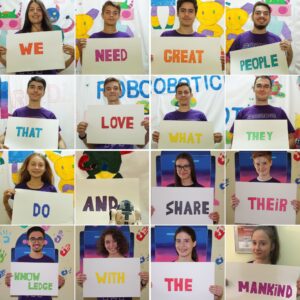 The pandemic really impacted our plans for the SkyStone Season. In 2018-2019, we held activities like the Ro2D2 Academy and Club Robotique, at which we shared our learning from the season with youth in the community. The feedback was extraordinary and we were looking forward to the upcoming editions but with the advent of the pandemic, events like these were impossible to organize. Fortunately, we adapted quickly, and we looked to create online platforms on which our followers could find high-quality information that we are passionate about sharing.  We also created an online journal, filled with information about the FIRST community and STEM-related activities, for youth in the community. We have also participated in as many online, organized events as possible and managed to stay connected and continue to positively impact our community, both locally and internationally.
      Can you tell us about the FIRST community in Romania, how it has evolved over the years and what you hope to see in the future?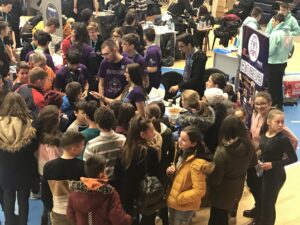 The FIRST Tech Challenge program was brought to Romania in 2016 by the Natie Prin Educatie NGO and since then, FTC Romania has come to be recognized as the third-largest FTC community in the world. The program started with 54 teams and 800 students in 2016 and currently has 240 active teams and 3000 students! Over the years, participation in the program has significantly increased the likelihood that students will pursue studies and careers in STEM fields and develop problem solving, teamwork and leadership skills. Romanian teams have experienced success on the international stage, including (but not limited to) a first-place win at FIRST Global Mexico in 2018 and a second-place win and the third-place Safety Award at FIRST Global Dubai in 2019. Romanian teams were also semi-finalists at the World Championship in Detroit in both 2018 and 2019. With the growth of the program, the focus of teams has also shifted from winning competitions to helping each other, collaborating and sharing ideas and we hope that this approach will continue for years to come. 
      What are your competitions like and do you have any memorable moments from past events that you would like to share?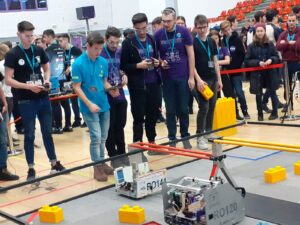 The best word to describe the competitions in Romania is ecstatic. Everybody is glad to be there and to connect with like-minded people but apart from the social aspect of the competitions, the games are filled with action, which makes it feel as though you are at an immense sports tournament. During the final matches, the arena is packed and everybody supports their alliance and their friends. Although friendly rivalries form between opposing teams, everybody plays fairly and displays Gracious Professionalism at all times! 
We had the opportunity to be in the finals in our Regional Qualifying Championships in the Rover Ruckus Season. We assembled a strong alliance, formed of fellow city teams, and it was amazing to collaborate with them during the crucial phases of the tournament. After the results were in and we learned that we had won, all of our fellow supporters burst into celebration, and we went home victorious. If you are passionate about STEM and robotics, then an FTC contest is the best place to be. It is the perfect opportunity to meet new people, present the topics you like, and experience the atmosphere of a competitive yet friendly tournament.
      What are some of the best parts of belonging to Ro2D2 and how have you benefited from the experience of being on this team?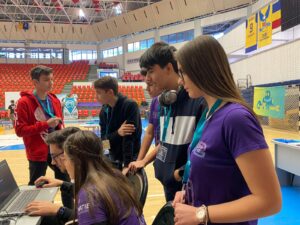 Being part of this team is probably the best thing that has ever happened to us because not only have we joined a robotics team but we have entered into a family. We have all become very good friends and, through both happy and stressful times, we have made incredible memories together. We have learned valuable technical skills but we have also learned how to work as a team, cooperate, communicate effectively and listen to the ideas and opinions of others. We have learned to persevere and find solutions to seemingly impossible challenges, to trust one another and to be patient and tolerant of one another's differences. Our coaches are committed to unlocking the potential of every team member, empowering us to take responsibility for our futures and promoting STEM education. As you can probably tell, continuous learning is at the heart of this commitment and we are grateful to them for helping us develop, as people, and for constantly challenging us to learn and grow.
      Do you have any final words for your friends in Canada?
 We are so honoured to have this opportunity and we hope all of the readers have learned something new and gained some insight into how FIRST functions in other countries. May the Force be with you, always!