Four girls from FIRST Team 1305, Fionna T, Tessa S, Ella K, and Emily Y, made waves with an amazing do-it-yourself project to help stop the spread of the COVID-19 virus.
This past April, mining company Vale launched a COVID 19 challenge to "to accelerate solutions that minimize the impacts of COVID-19 on our society", as they put it. Rising to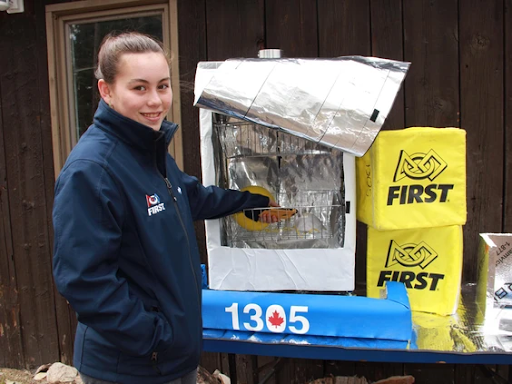 the challenge, they created an open-source do-it-yourself UV sterilizing cart entitled the UV Cube. Nearly 2000 projects applied for the grant, and they were one of only 11 solutions chosen to receive funding.
The girls did a lot of testing to create the perfect, most cost-effective design. They tested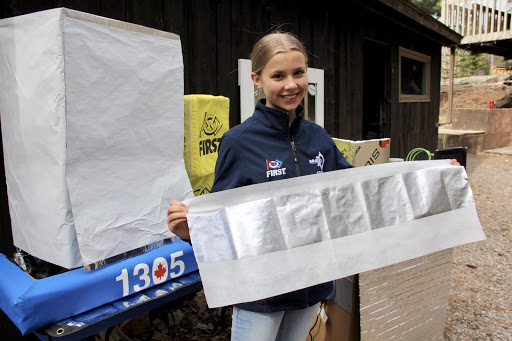 various reflective materials to make sure that the UV rays would reach every part of the cart and not have any dead spots. They also tested its effectiveness and learned a lot about the reflectiveness of different materials and how UV light kills viruses and bacteria.
The UV Cube itself is a UV sterilizing box that can be built by health centers, especially nursing homes, dentist offices, homeless shelters and other high-risk places that may not otherwise have the resources to keep the virus at bay. It is especially useful for sanitizing PPE and other items that cannot be conventionally sterilized, like phones and shoes. The design was simple enough for just one person to build! 30 minutes under the UV light in the cube is more than enough to kill any viruses or bacteria, including COVID-19.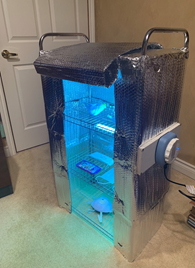 They created a kit that included all the necessary materials and instructions to create the cart, making it very accessible and low cost to those who would like to participate and bring this cart to their community. They used the grant from Vale to send out 50 of these do it yourself kits for free to various FIRST Teams like team 772, 3683, and 6461 to build and distribute in their community where it was most needed. Michelle D