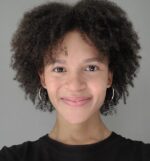 Personal pronouns: she/her
Hi! I'm Amelia and a grade 11 student on the FIRST Robotics Canada Youth Council! I've been on my community team, UMOJA 7712 for more than two years now and my favourite parts are getting to work with everyone on various projects, graphic designing and sketching, as well as project management and social media!! When I was younger, I was never really on a robotics team, but when I was ten I went to robotics march break camp where I got to build and create things like a windmill and a car. This started my love for robotics, as I love making crafts and putting things together, and love to know how things work! I am so glad I joined my team when I was in grade 9, because I get to use some of my artistic skills to design blueprints and game plans for us to create. I am looking forward to what the next season has in store!
Outside of robotics what are some of your hobbies?
Outside of robotics, I love to do all things art! I love to play instruments (mostly violin) and make music and am now learning the French horn. I also love to act and am a part of my school's musical theatre production this year! Lastly, I love to create art and use many medium s such as watercolour, paint, and pencil. I am also a huge LEGO Ninjago fan, and when I'm not creating art, I will most likely be re-watching some of the older seasons :).
Where do you see yourself in ten years?
In ten years, I see myself creating change in our world. I am very passionate about activism and world issues, and would love to see myself actually making those changes and helping others. I also see myself doing a wide variety of things, such as environmental engineering, graphic designing, architecture, and maybe also acting on broadway!
If you could have any animal as a pet, what would it be?
If I could have any animal as a pet, I would have a lot of bunnies, cats, dogs, ducks, and maybe a frog or two! Maybe a goose could be cool too (if they don't bite me haha).