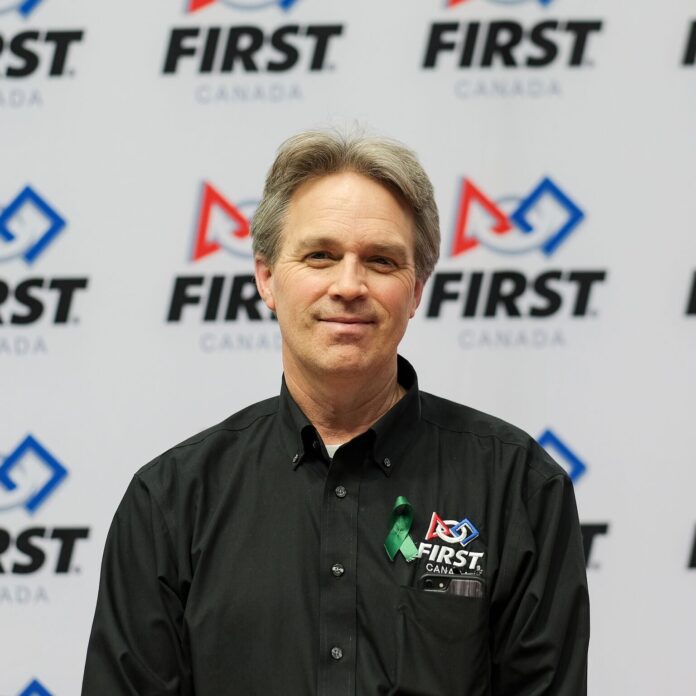 Note: This is a two-part interview. To read the other half of the interview featuring incoming FIRST Canada president Dave Ellis, click here!
You started the first-ever FIRST Robotics competition team from Canada in 1998. What led you to do that, and how did your journey towards ultimately becoming FIRST Canada President proceed after that?
In 1998 I was a young teacher who had just been promoted to be the head of the Computer Studies department at Woburn Collegiate in Scarborough. I had the pleasure to work with many talented students and teachers. I was eager to create new learning opportunities for students where they could experience a fun challenge that would bring us together and at the same time develop leadership and teamwork skills. I heard about FIRST and decided to make a phone call to Manchester, New Hampshire where FIRST Headquarters resided. I asked if they would entertain a team from Canada attending their competition and after some discussion, they agreed. At the time I really had no idea of the magnitude of FIRST and the life-changing experience it was going to bring to so many students, parents, teachers and volunteers. The journey towards becoming president was a slow and steady process of consistent growth, the addition of key people to help with the mission, and the bringing on key supporters from corporations and government. The goal was not to become the president but rather to grow the organization so that more students could experience the wonder of FIRST. As time went by and the organization grew quickly we were able to become registered as a charity, attract incredible Board members and staff that led to our rapid expansion across Canada.
You became President of FIRST Canada in 2010. Please give us a brief overview of what you were responsible for in your role?
I really like to think of FIRST Canada as a very humble organization with the interests of students being our number one priority. We have been blessed to grow quickly through the help of our volunteers, mentors and partners. Part of the president's role is to work with the Board of Directors to craft a strategic plan that guides the organization's growth and provides direction. At FIRST Canada, we rely heavily on the amazing staff members, mentors, students on FIRST teams, Youth Council, Girls in STEM Advisory Council, Executive Advisory Board, Key role volunteer leads and many others to have input into the direction and operation of FIRST Canada.
What does a typical day as President of FIRST Canada look like?
There is no such thing as a typical day 🙂 Every day is new and filled with challenges and opportunities. Topics range from forming new partnerships, event logistics, training sessions, meeting with students and teams, checking in with volunteers and mentors, managing the budget and so much more. The beauty of this role is that it is so diverse and provides opportunities to learn many new things every day.
What do you wish other people knew about FIRST Canada?
I think most people know, but the strength of FIRST Canada is our students, volunteers, mentors and partners. We try to highlight these amazing people as much as possible but there is always more we could do. We simply could not exist without the dedication of so many volunteer groups that help us accomplish our mission. I am forever grateful to the thousands of people that give their time in so many ways.
What has surprised you the most in your time with FIRST Canada?
Many things have surprised me in a positive way during my time at FIRST Canada.  It is hard to single out just one thing. One thing that constantly impresses me is the sheer delight expressed by students as they attend our events. It is awesome to see so many students and mentors having a wonderful experience. To make our events great, we rely on volunteers and the dedication of these volunteers has always been inspirational for me.  Many work long hours to prepare and execute our events. 
If you weren't working with FIRST Canada, what would you have been doing instead? What do you think your life would have been like?
I really enjoy teaching and working with students so if I wasn't working for FIRST Canada I expect I would have continued in the education field. I also very much enjoy entrepreneurship so it is possible that I would have started my own business in the field of education or technology. Fortunately for me, FIRST has allowed me to experience all of my favourite passions at the same time!
What might someone be surprised to know about you?
People might be surprised to know that I am naturally quite shy but working with FIRST and pitching our great programs over the years has helped with that.  I love the outdoors and enjoy my time at my cottage where I am a recreational beekeeper and have a greenhouse for growing healthy vegetables.  I also enjoy wakesurfing, water skiing, and fishing.
What advice would you give to someone who is looking to aspire to a similar path as yours?
My advice would be to work hard, make lots of friends that share your passion, come up with clear and achievable goals to move the cause forward and celebrate successes in fantastic ways.  Never be afraid to pitch your ideas and ask wise people for advice and then listen to it.
What was the best thing to happen to you after you started working with FIRST Canada?
This is an impossible question.  There are SO MANY  amazing things that I have seen happen at FIRST Canada since I have been here.  It is simply impossible to compare the thrill of running our FIRST FRC event in 2002, to the introduction of FLL in Ontario, to the formation of the Youth Council, to the countless life-changing testimonials from students, mentors, and partners, to seeing so many startup alumni companies form, to winning the Woodie Flowers award, to visiting so many FIRST teams across Canada, to the FIRST Team 5672 from Manitoulin Island being top 3 world chairman's winners, to seeing many Canada teams with on the Einstein field for FRC and FLL teams win world championships… and the list goes on. The FIRST community in Canada has provided me with untold rewarding and great stories of success and I am thankful for that.
What is next for you? What are you looking forward to?
First off, I am going to spend some time with my family at our cottage for the summer.  I am looking forward to that. After that, since I am not known for sitting still too long, I expect I will look at some other opportunities that fit my schedule where I can use my knowledge to help others. Of course, there will always be time to help out FIRST Canada when needed and I hope to attend many events and help as a volunteer. 
What are your favourite pastimes outside of your career?
My favourite past times would include beekeeping, construction, boating, fishing, playing hockey, spending time with my family, socializing with friends and cheering for my favourite professional sports teams.
What is your favourite food?
Hmmm. This is a difficult one as there are so many.  I do very much like Sushi and my kids are trying to introduce me to many new vegetable dishes which has been a fun experience. 
What is your favourite movie?
I don't tend to watch a lot of movies, but my favourites would be in the comedy area.  I find Jim Carey, Ben Stiller and Robin Williams funny in comedy roles in movies.
What is your favourite book?
Without pinpointing one book, I enjoy autobiographies of people I can learn from and mystery novels. 
What is your favourite song?
I enjoy all the songs that DJ Nick plays at our FIRST events. I tend to like upbeat music.
Knowing what you now know about life, what would you tell your teenage self?
This is an interesting question. I think I would tell my teenage self to make as many friends as you can, never rule out a creative thought, always explore new ideas and make it a focus of your existence to help others and especially those that are not as fortunate as you are.
Last but not least, if you could have any superpower, what would it be and why?
I think my favourite superpower would be Teleportation. The ability to be anywhere in the blink of an eye and visit the wonders of the world would be awesome. It will also mean that I could visit with people anywhere at any time in an instant. Think of the power of being able to do that!