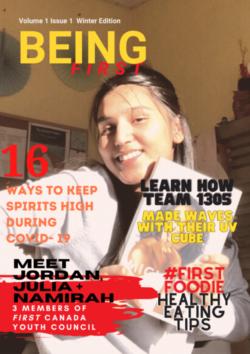 At FIRST Canada, we are very passionate about Equity, Diversity and Inclusion. We are always striving to be better and to be more inclusive. This is why we are super excited to present to you Being FIRST! Being FIRST is the very first interactive online magazine created by the FIRST Canada Youth Council! This magazine is completely online with new issues produced quarterly.
Each issue has a unique theme and we are delighted to announce that the theme of the first issue is Keeping Spirits High During Covid-19. The purpose of this magazine is to celebrate diversity within the FIRST Community as well as celebrating FIRST Values.
It is also used to amplify community voices! We are so excited to share with you everything we have been passionately working on. We hope you enjoy it!
Signed,
FIRST Canada Youth Council